Quality Products, Exceptional Service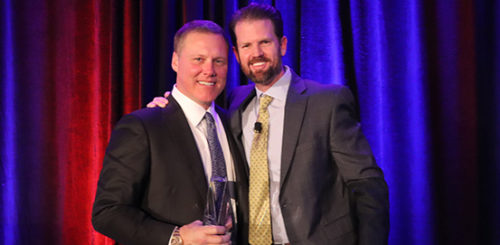 Weatherization Partners awarded 2018 DuPont™ Tyvek® Distributor of the Year
Jan, 2019
Dallas, TX – DuPont Performance Building Solutions has awarded Weatherization Partners as the 2018 Distributor of the Year for North America, representing the DuPont™ Tyvek® product-line.
The criteria requires a distributor to embrace new DuPont programs and products, show initiation, creativity, respect for colleagues and customers, market leadership, and exceed purchase order targets. The award was created by DuPont to recognize each year an exceptional distributor.
During his acceptance speech, Weatherization Partners' CEO David Faulkner reflected on this year's passing of his best friend, and dad, Aubrey Faulkner Jr., who taught him the family business and was one of the original Tyvek® distributors. "This past year was all about change. My dad used to tell me change or be changed. With the recent merger of DuPont and Dow we all have a special opportunity moving forward. The thing I love about this group is you are all my friends. No one does what we do. We have a great future ahead and I thank everyone who is a part of that."
About Weatherization Partners
Weatherization Partners, Ltd., (WPL) is a third generation, independently owned and operated building material marketer and distributor. We embrace a can-do attitude at WPL and are passionate in our commitment to consistently provide value for our partners with quality products and services, and being a trusted advisor. We dedicate time to listen to our customers and seek innovative solutions to drive stable growth.